How New Chapter Ensures You Receive Quality Supplements
Jul 7th 2021
By Charlotte Traas, New Chapter® Director of Education & Board Certified Master Herbalist
The adage "you get what you pay for" rings in your ears as you reach, click, and decide on a purchase. This saying ties the quality for a good or service to its price. The more it costs, the more it should be worth, right? But worth is a relative term. Let's add up how great value gets built into high-quality products like New Chapter®'s family of vitamins and supplements.
What 'Quality' Means in Vitamins & Supplements
In general, when it comes to vitamins, herbals, and supplements, price and worth may not necessarily be tied to each other. As a customer, you may have read news stories about supplement recalls or adulterations. The consumer paid the price for the product but didn't get the promised quality and value. These stories draw us to question what is quality when it comes to supplements, and how do we know if the products we ingest are not only safe, but efficacious?
How New Chapter Chooses Our Ingredients
When formulating New Chapter vitamins and supplements, we believe that excellent quality really starts at the source. You wouldn't choose rotten apples to make an apple pie—you'd want the best apples you can find. We take that further for our products by using the finest botanical ingredients we can find on Earth. We know that choosing the right plants, grown with care, and harvested in their prime, makes for a better herbal product. We know how ingredients that have been tested and validated by science are more likely to deliver the benefits you expect and want. So that's why both the sourcing of our ingredients and the way they are harvested are very important. They're the starting points for being able to ensure the high quality of our ingredients.
Why Do Ingredients Matter?
The quality of a product rests heavily on the ingredients chosen to go within it. Each ingredient has a role to play. In cooking, putting the wrong spice into your recipe can ruin the outcome. Choosing the wrong ingredients to go into a supplement works in much the same way. Ingredients, like flavors, can build upon one another to make an effective formulation and deliver outstanding results. A favorite example is the synergistic effect of herbals in New Chapter's award-winning Zyflamend™. These 10 pure herbs have been shown to actually work better together as a blend, than if you added up the individual action of each herb (as shown in preclinical lab testing).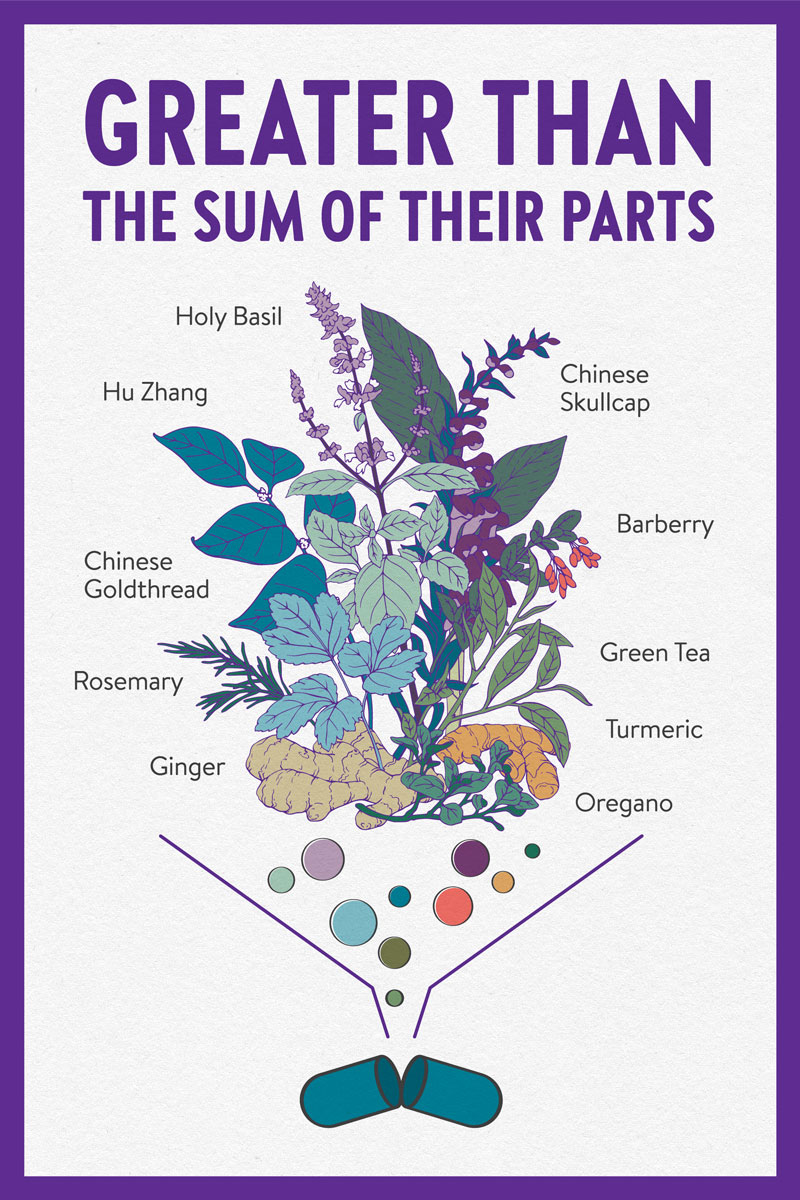 When it comes to multivitamins, ingredients make a huge difference in efficacy, like using Vitamin D3 instead of D2. In one study, D3 was shown to be almost twice as effective as D2. Choosing the right ingredients to help your body assimilate them is an important marker of both quality and formulation expertise. New Chapter takes great care with every ingredient, every time.
Ingredients We Source
Turmeric is a hot spice on the market today. Many people turn to Turmeric to experience the inflammation-balancing effects of this powerful botanical, along with its antioxidant capabilities. But how do you know your Turmeric capsule is Turmeric? How do you know it's not just isolated Curcumin (one active compound in Turmeric)? And can you be sure your Turmeric wasn't grown in soil that was depleted and surrounded by pollutants? Often, you can't be sure.
New Chapter goes the extra mile to source the best Turmeric from where it grows best—the tropics, including India. Everything there from the soil to the rainy climate helps our non-GMO Turmeric to grow and prosper, full of the phytonutrients that cause it to work so well and be revered in Ayurvedic medicine. We let you know right on the carton of our Turmeric capsules that you're getting pure and potent extracts of the finest quality whole Turmeric, formulated to work together for your body's optimal absorption of Curcumin and other beneficial compounds.
Measuring Potency of Ingredients
Our plant ingredients are meticulously analyzed to meet rigorous specifications. This process includes a testing method called HPTLC (High Performance Thin Layer Chromatography) that is used to confirm botanical identity against authentic references for that exact genus and species. For some botanicals, we also confirm identity and potency of key compounds by High Performance Liquid Chromatography, another type of analysis, using certified reference materials. Analyses are performed by a third-party laboratory using validated methods. If a sample does not meet our rigorous specifications, we don't use it.
Identity & Purity Testing
Identity testing can be tricky, but it's necessary to get the outcome that you need for an efficacious product. Many companies only rely on the supplier to tell them what plant or botanical is being purchased. New Chapter goes a step farther: we verify. While a botanist could tell you the difference between marjoram and oregano on visual inspection, identifying plants accurately by sight alone can be difficult. We test and test again to confirm identity and purity of our ingredients.
How New Chapter Sources Ingredients
Source location and accurate plant identity are important. At New Chapter, we also look for ingredients that are sustainable. It's important that what we do is good for the planet as well as being good for people!
Sustainability
Sustainability ensures there is enough of a certain resource for the future. While some plants have great healing qualities, and some animal species, like krill, have impressive research, New Chapter chooses our ingredients with the earth's vitality and endurance in mind.
Krill fishing depletes a vital resource for our ocean's ecosystem. Most krill harvesting grounds are near penguin colonies and whale feeding grounds, according to a Greenpeace study. So, despite the interesting research about krill's benefits, New Chapter chooses to utilize the trim from heart-healthy Wild Alaskan Salmon. Wild Alaskan Salmon oil not only provides 17 Omega fatty acids including DHA and EPA, but we can confirm that it's sustainably sourced and ocean-friendly.
Plant calcium is another example. When choosing a source for our organic plant calcium, we wanted to make sure we were sourcing from clean water. Algae takes its nutrition from the water around it and not through a root structure. Having a third-party certifier make sure the algae was collected responsibly, and that the ocean floor was meticulously mapped to prevent overharvesting or disruption to fragile ecosystems, was essential for New Chapter to move forward. Our calcium-rich Lithothamnion (Red Marine Algae) from Iceland is certified sustainable through Vottunarstofen Tun.
Regenerative Agriculture
When it comes to herbals, we are proud leaders and supporters of Regenerative Agriculture—techniques that build on organic practices to help heal the soil and use resources as effectively as possible.
What is regenerative agriculture? Robert Rodale, of the Rodale Institute in Pennsylvania, coined the term "regenerative organic" to identify holistic practices that go beyond organic standards to build soil resilience. Topsoil has been devastated by overuse of fertilizers, excessive ploughing and tilling, and overgrazing. The result? The Food and Agriculture Association says that if we don't make a change, our topsoil could be depleted within the next 60 years.
New Chapter is dedicated to supporting research practices led by the Rodale Institute on how Regenerative Agriculture can revitalize our soil and help support farmers. You'll find the supercritically extracted Turmeric and Ginger found in our Turmeric Force™ and Ginger Force™, respectively, are regeneratively grown. We are working to transition more herbal ingredients to being regeneratively farmed. ("Supercritical" refers to a gentle yet powerful extraction method that uses natural carbon dioxide.)
Strong Partnerships
We travel the globe to identify and build relationships with supplier partners who share our commitment to sustainable sourcing. Knowing our suppliers and the origins of their harvest helps us uphold a supply chain that is both socially responsible and environmentally sound.
We co-designed a Responsible Sourcing Program with NSF International to onboard suppliers to New Chapter's background and goals, and deepen supplier engagement in responsible and sustainable sourcing.
Suppliers follow a written code of conduct—a clear set of principles that cover ecological sustainability, human rights and fair working conditions, wage and hour practices, and non-discrimination.
Check out our sourcing stories about plant calcium and fish oil for examples of how we insist on the best quality, tested materials.
How New Chapter Formulates our Supplements
Formulation is both a science and an art. While some may think that you can put ingredients together any way you want, formulators know this craft is delicate. Certain herbs can accentuate one another, like Turmeric and Chinese Goldthread. However, other herbs do not pair well.
It's also important to use the right type of herbal extract to deliver the expected constituents. When it comes to therapeutic herbs for health, there are different ways of unlocking an herb's particular profile of phytonutrients for our bodies' benefit. Some compounds are water soluble (like those in tea leaves). Others are best extracted using ethanol (alcohol) or through purely mechanical methods (like filtering). Still other compounds are like essential oils, and we extract these with a gentle supercritical method using natural carbon dioxide. Our herbalists carefully select the herbs that will work together well, and the right processes to deliver that plant's full spectrum of active compounds.
Choosing the Right Formulations
Synergy is the ability for ingredients to build upon one another with a multiplying effect. New Chapter's 10-herb Zyflamend is a classic example of what happens when you put the right ingredients together in the right amounts. Zyflamend is an inflammation-balancing masterpiece!
Including multiple parts of the herb is another way New Chapter formulates with botanicals. For example, utilizing the whole herb of Turmeric by including both the oleoresins (parts of the plant that are soluble in oils) and the water-soluble parts of the plant means you are getting the benefit of the whole plant, not just an isolated Curcumin. There are parts of the Turmeric plant, like Turmerones, that help Curcumin be utilized by the body. By including compounds from the whole herb in our formulations, not isolates, you get the benefits from the best formulator: Mother Nature.
Formulated for Absorption
Designing blends of nutrients that absorb well and can be utilized by the body is another part of New Chapter's formulation craftsmanship. For example, when we chose our plant-based calcium Lithothamnion, we knew that Vitamin D3 would help the calcium absorb into your bones where you need it. Another nutrient, K2, would play a critical factor in helping the calcium get to your bones.
Excess calcium intake may lead to calcium in your arteries since calcium is not a water-soluble nutrient that your body flushes if an excess is consumed. So how can we support your body's ability to utilize calcium in a responsible dosage? With Vitamin K2. K2 acts like a traffic director, leading calcium to your bones where you need it and away from your arteries, where you don't. You'll find both D3 and K2 in our bone-strengthening plant calcium supplement.
New Chapter multivitamins are also carefully formulated for absorption. We fine-tune the levels of each high-quality vitamin and mineral, choose types that work best with the body, and ferment key nutrients with probiotics and whole foods. Check out our "Ferment Facts" page for more on this age-old enrichment process and how it helps unlock nutrition.
New Chapter's Third-Party Certifications
Investing in third party certifications is another way that New Chapter continues to ensure quality for you. New Chapter works to give our customers verification that our quality standards are truly exceptional.
Certified Organic
Sourcing organically, when possible, is important to New Chapter. The Where Food Comes From Organic seal indicates a product is 70% organic or more and certified to United States Department of Agriculture (USDA) National Organic Program (NOP) standards. If you see the USDA Organic seal, that indicates a product is 95% organic or more according to these same standards.
Non-GMO Project Verified
The Non-GMO Project is a valued partner at New Chapter. Our Vermont-based company has long been committed to avoiding genetically modified organisms (GMOs). We were one of the first natural supplement companies to enroll our products with the Non-GMO Project for verification. The Non-GMO Project logo on our products confirms that the ingredients are independently reviewed for GMO avoidance… going all the way back to the seeds!
Certified B Corporation
The B in "B Corp" stands for Benefit. At New Chapter, we're committed to being not just best in the world, but best for the world. Our status as a Certified B Corporation makes that commitment official! Certified B Corps are required to score high in key areas of business including treatment of workers, environmental impact, business transparency, and community engagement. New Chapter has been a B Corp since 2014 and a two-time honoree as Best for the World: Changemaker. We're always working to get better and better at caring for people and planet in our products and our business decisions.
Certified Gluten Free
Gluten is a derivative of wheat and while many can have it without issue, there are some who cannot. To make our vitamins accessible to as many people as possible, New Chapter is proud to have our products certified gluten-free by NSF. This independent certification meets FDA gluten-free labeling rules and gives peace of mind to those who want to avoid gluten.
A Leader in Supplement Quality
At New Chapter, we understand that quality is about more than just saying it's there. We must prove it's there. From our formulation philosophies that respect Mother Nature's inherent wisdom to our meticulous ingredient choices and third-party validations, New Chapter is committed to giving you the best products made with potent ingredients that help you reach your wellness goals. We work hard to continue delivering the supplements you know and love with the best ingredients on the planet. Being able to help you with your health goals is an honor! We're doing wellness well, so you can do you.